My son's 5th birthday party was last weekend and it went really great! All his little friends had a blast running and playing in the back yard. I don't think I stopped moving the whole day. Adrenaline kept me going going going. It certainly was worth it I just loved how everything turned out.
The building the pirate ship was the biggest project (I'll post more about that later).

The party started off with this pirate invitation from Shutterfly, it was super easy and quick to put together (as most of my shutterfly projects are!)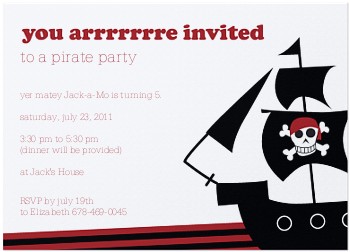 Pirate Ship Birthday Invitation
Shutterfly has unique and fun birthday party cards.
We set up the kid's table using 2 big tubs and a piece of plywood covered in plastic table cloth. I bought the roll of plastic table cloth
for the kiddo's 1st birthday party it was the best investment! I tend to stick to the same color schemes so It has worked out great almost every year.
I've had these plastic chairs for a year or so picked them up on a Target clearance sale they stack for easy storage and are perfect to keep on hand for children's parties. A wooden pirate ship toy that we had served as a centerpiece for the table.
The Target mini seasonal clearance came at a perfect time for our party and I picked up most of the decorations, a bunch of the party favors. All the kiddos got a bucket full of goodies which included a pirate sword, head scarf, patch.
I can't recommend enough getting foam swords for a pirate party for 5 year olds. The kiddos really got into the role playing!
I served salad, veggies, and pizza with lemonade and water, juice boxes for the kiddos.
My kiddo doesn't do cake or cookies so I just did cupcakes for the guests and added a quick sail topper that my mother-in-law and I made in about five minutes using bamboo skewers and pieces of cardstock.
There were to be three babies at the party so I had a little mermaid island for the babies to play on during the party.
I had wanted to do a scavenger hunt with a treasure map to locate this really cool treasure chest but I ran out of time before the party and with 5 and 6 year olds it worked much better just to have them run around having fun and playing on the pirate ship.
I also set up a photo booth those are always so much fun at parties but none of the adults really wanted to dress up and the pirate ship actually ended up being a better place to take photos.
Over all I know my kiddo had a great 5th birthday party and I'm pretty sure all his friends did too! Our next big birthday party will be baby girl's big first birthday early next year!
Get your own Party Goodies: