Last Thursday night I had the opportunity to gather with local Atlanta Mom Bloggers down in Buckhead for a party with Graco. The party was hosted by Meghan of JaMonkey.com. I had so much fun meeting other area blogging mommies (and some of their adorable babies) and chatting all about our kids, blogging, and car seats!
Photo courtesy of party hostess Meghan
Meghan shared with us the all new Graco SnugRide® Click Connect™ 40 car seat. I was super excited to learn more about the only rear facing car seat on the market that is designed for newborn up to two years old (4lbs – 40lbs). I was mostly curious how a two year old could sit rear facing and still have room for their legs.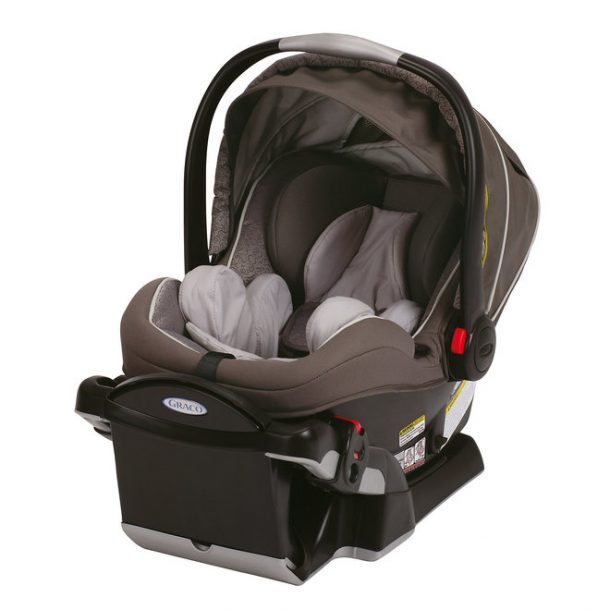 Graco did an amazing job addressing that issue. Their 8 reclining positions allow you to adjust the seat to best fit your child and allow them to comfortably sit rear facing without their legs being cramped. Adjusting the position of the car seat is super simple just press the buttons on each side and slide to the seat position you want. When their feet do touch the seat they have designed a handy kick plate that pulls up to protect your seat. (This is my husband's favorite feature!)
That isn't the only cool feature that I really loved. The harness system, 'The Simply Safe Adjust ™', makes it super easy to adjust the height of the shoulder straps and head padding section as your child grows. No more rethreading the straps!! WOOT WOOT I love that it makes it easy to ensure you're keeping your child as safe as possible at all times! No excuses!
Having two young kids, a 20 month old and a 1 month old, this car seat is amazing. If I'm traveling with only one of my young ones I can easily adjust it to fit either child with the super simple seat & strap adjustments. For that purpose this would be a terrific car seat for my husband's car, additional bases can be purchased too. 
The car seat is exclusively available at Babies R Us and retails for $219.99.
The Graco SnugRide® Click Connect™ 40 – the first and only newborn to two-year infant car seat that actually grows with your baby from four pounds all the way up to 40 pounds. The car seat is designed for a parent on the go. The infant car seat can be easily removed from the base and used as a carrier when the infant is small, providing portability and convenience so you can easily move your infant in and out of the car without disturbing them.
The American Academy of Pediatrics recently made the recommendation to keep all children in rear-facing car seats until the age of 2. Graco set out to make this product so parents can keep infants rear facing longer while still keeping them comfortable.
This is a sponsored post written by me on behalf of Graco. The opinions and text are all mine.